---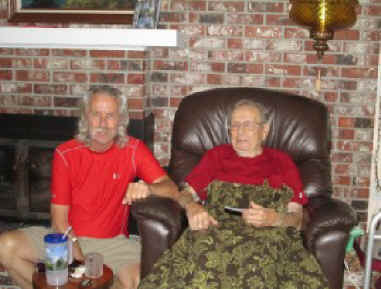 ILWU pensioner Arne Auvinen passed away on July 31st. Arne was an active union member who dedicated his life to the ILWU. He was elected to numerous local union positions over his long career and was an active member of the Pacific Coast Pensioners Association in his retirement.
Arne was first chosen to serve his local in 1957 when he was elected Secretary of Local 21. Over the years was elected by the membership to serve the union in several offices including caucus and convention delegate, dispatcher, trustee and in 1964, Local 21 President. In 1970 he was elected Vice President of Local 92 and Local 92 President in 1971.
In retirement Arne served as President of the PCPA from 2003-2006 and as the PCPA Secretary for 10 years. The 47th Annual PCPA Convention, held this September in British Columbia ,was dedicated to his memory. –Eds
---
Arne Auvinen was my Pap and my hero. I was blessed to have him 65 years. He and my mother, Margie, who died in 1982, raised my sisters and me to believe that we could do anything we wanted if we worked for it, and work was paramount to achieving our dreams. They also taught us that people are people, regardless of our color or race.
My Pap was born into the labor movement in Southwest Montana on May 9, 1923, in the small mining town of Bear Creek. His father, Paul, was active in the Industrial Workers of the World (IWW), helping workers fight for humane working conditions against employers who viewed employees as expendable.
My granddad eventually ended up being black-balled from the mines, which happened to many union supporters & organizers. Their family moved to Washington where my granddad went to work on the waterfront in 1927. He settled in Longview , WA , where he became a member of Local 21 in 1933.
Granddad passed away in 1943 because of the lung disease he got from working in the mines. This left my grandmother destitute with a mortgage to pay on an unfinished house. Growing up in those circumstances deeply influenced my father's commitment to improving conditions for working families.
I cannot remember a time when my dad wasn't involved in what was happening at the union hall, which he believed was crucial to keeping our union healthy and strong because it made workers more informed and involved.
He believed that the hiring hall was the single most important result of the 1934 strike and must never be surrendered. I can remember when the unity and strength of my father's generation made the 8-hour day a reality, so he could get home at 5:30 instead of 6:30.
My Pap believed that you owed your employer a good day's work for a good days pay. He never believed in working 2 hours on then taking 2 hours off, or working 4 on and 4 off, even though it became more common before he retired.
His rule was this: if you were supposed to be working a job and weren't there, you should be fired. It was totally against everything he believed for someone to be paid for not working. Pap believed that our jobs were secured through the strength and sacrifice of union members, and that union members had a responsibility to care for those jobs and not abuse them.
When I worked on the docks in 1966-1977, most cargo was still being moved by hand. It was hard work, but I never felt that I was worked too hard for the pay that I received. Workers who are fortunate enough to be part of the ILWU's elite longshore workforce enjoy the best blue-collar working conditions and benefits in our country.
My father believed that employers would always find ways to exploit unorganized workers – and he believed that it was the responsibility of union members with good jobs and benefits to help unorganized workers build unions. He thought this was the only way to preserve and improve the working class. He didn't see it as a local issue, but a world issue.
He didn't think these were individual problems, but ones for union members to address together with the entire labor movement. He believed the ILWU's Ten Guiding Principles should be respected and followed.
Arne didn't quit when he retired in 1985. He and our stepmother, Esther, became active in the Pensioners. He advocated for widows to receive a larger portion of their husband's pension benefit after their husbands died. He also pushed to bring the pensions of older retirees more in line with current pensions.
My Pap's last hurrah was the Lower Columbia Longshore Federal Credit Union's 60th Anniversary on April 26, 2014. He was instrumental in it getting it established, and I was glad to join him that day when he was still sharp and witty. Today he is gone, and I miss the conversations and his comments more than could ever have imagined.
I wish that those of you who follow in his footsteps will cherish and protect the work that he and others like him were able to do. I hope you realize how fortunate we are today because of the work that was done by our elders who were totally committed to the cause of the working man.
My dad and the others of his generation are mostly gone now – but there's still plenty of work to be done – so the rest is up to us to carry it on.
– Michael Auvinen
---