---
The ILWU Story
The Everlasting Bridges Case
For twenty-one years Harry Bridges, who emerged as the leader of the new longshoremen's union in the strike of 1934 and remained as its president until his retirement in 1977, was a defendant before the courts. He was the subject of a congressional investigation and of two pieces of federal legislation, one of which was enacted into law.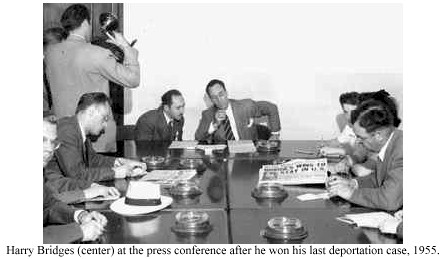 He underwent two deportation hearings and a denaturalization proceeding and twice was vindicated in other actions before the Supreme Court. All four prosecutions were based on the same false charge: his alleged Communist affiliation.
He was wrongfully convicted, illegally imprisoned, fraudulently stripped of his citizenship, and his attorneys sent to jail for defending him. Not without reason did Supreme Court Justice Murphy declare at the time of Bridges' first vindication before the highest court that, "The record in this case will stand forever as a monument to man's intolerance of man."
From 1935 to 1956 Bridges was under the constant surveillance of police, the FBI, and a swarm of private operative.
For all that time he lived with the knowledge that every telephone call he made was illegally tapped; that his personal correspondence was monitored; that the rooms in which he lived and worked - even hotel rooms when he traveled - were unlawfully wired.
Throughout, the ILWU rallied to Bridges' defense, fully aware the attacks on him were part of a concerted effort to weaken and destroy the union. When Bridges died in 1990 the West Coast shut down from noon on March 30 to 8 a.m. March 31. Then, simultaneous with the departure of the San Francisco Bay for burial at sea, all West Coast, Alaskan, and Hawaiian ports shut down for two hours.
---