---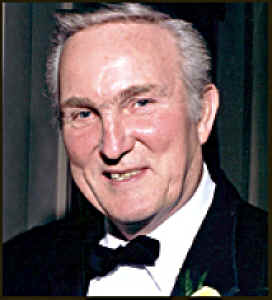 Thorman Elm Moen Age 81, passed away March 27, 2011. Thorman was born to parents Alfred and Maren Moen, who left their homeland of Norway for a better life for their family. They ended up settling first in Vang, North Dakota, where Thorman was born December 21, 1929, the youngest of 6 children.
Times were extremely difficult for everyone, but they did the best with what they had farming and owning a general store. They suffered through harsh winters and blistering summers, finally deciding to head west, landing in the town of Ballard, when Thorman was 8. He attended Whittier Elementary, James Monroe Jr. High, and was a Ballard High School graduate.
He was an excellent athlete, lettering in football and baseball. After high school Thorman began working in the lumber mills, not fishing like the majority of people in Ballard. In 1958, he married Thora Barth, along with her three children and they completed their family with two more children of their own.
One day in 1957, Thorman came across an ad in the newspaper that read "now accepting applications for registration for longshoremen". He sent an application in and much to his surprise was accepted.
He always said getting that job was like winning the lottery. He was a longshoreman for 35 years (local 19 & 98), working his way up the ranks, retiring as a foreman in 1991. After retirement he liked to play golf, enjoy time with his family and his favorite hobby was maintaining his Stanwood farm.
He loved to walk the fence line with his cows by his side. Thorman was well respected as a worker, a humanitarian, a parent, grandparent and great grandparent. He will be deeply missed by children Larry Moen (Lisa), Cyndi Justice (John), Mark Barth (Nancy Jewett), Mike Barth (Mary), Debbie Barth, grandchildren, Trevyr, Kyanna, Chantz, Logan, Lauren, Bridgett (Anthony), Amy, Liza, Brandon, Brittany, and great grandchildren, Zack, Jasmine, Annabella, Donovan, and Emma, and former wife Thora.
A celebration of his life will be held on Friday, April 1, 2011 at Shilshole Bay Beach Club 6413 Seaview Ave NW , Seattle In lieu of flowers, memorials may be made to Evergreen Hospice Center, 12822 124th Lane NE, Kirkland WA.
His famous words: "You can have all the money in the world but if you don't have your health it's worth nothing."