---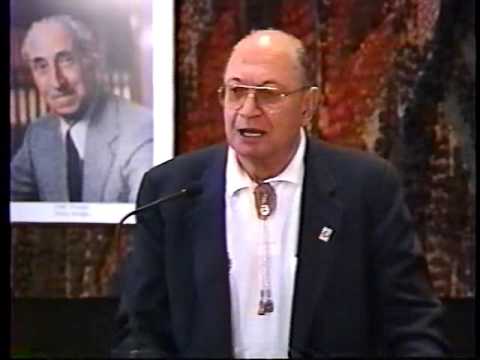 Martin Jugum, 81, Tireless Advocate For Longshoremen
By Carole Beers
Seattle Times Staff Reporter
Martin Jugum referred to himself as "only a working stiff." But on Seattle 's waterfront - and at the University of Washington Center for Labor Studies - the big man known as "Jug" was a legend.
"He was one of the key people in creating the Harry Bridges Chair, and raising ($1.3 million) for it," said David Olson, a professor who was awarded the chair for its first two years beginning in 1992. "It's the only endowed chair in the United States named for a labor leader." Mr. Jugum died of cardio-pulmonary failure May 4. He was 81.
Born in Seattle and reared in Aberdeen, Mr. Jugum met Bridges when the San Francisco leader of the International Longshoremen's & Warehousemen's Union visited Aberdeen in 1938.
After Army service, Mr. Jugum moved to Seattle where he worked on the ILWU labor relations committee. He used wit and a booming voice to defend rank-and-file members. "He had a knack for cutting to the heart of an issue and stating his position in language that was at once concise and disarmingly humorous," said Charles Bergquist, current holder of the Bridges Chair.
"He countered charges that Bridges was a communist, for example, by challenging critics to show me another guy who has three certificates from the Supreme Court of the United Sates that say he ain't.' "
An avid reader and highly organized, Mr. Jugum kept up with current events, said his daughter, Jo Anne Jugum of Seattle. Every afternoon at 4, he drove to the Junction in West Seattle to buy the evening paper, she said.
Wherever he drove, he'd have a tape of jazz clarinetist Pete Fountain playing in the car. And whenever he got a gift, he'd make sure it was made in the U.S.A.
Mr. Jugum held many positions, including business agent in Local 19 of the ILWU. After retiring in 1977, he kept in touch by telephone. As a member of the ILWU Pensioner Association, he led the fund-raising for the Bridges Chair.
"His idea was to get a thousand guys to give a thousand dollars," said attorney Robert Duggan, who worked with Mr. Jugum to raise the money.
"He just went to people one by one, buttonholed them, or went to union meeting after union meeting, where officers would assess the donation."
Bergquist said Mr. Jugum got people to see things his way by making them laugh: "He punched away all his life at selfishness, obfuscation and small-mindedness. He was a big man with big ideas. He kept reminding us of what a democracy was all about."
Besides the ILWU, Mr. Jugum belonged to the Croatian Fraternal Union of America, and Veterans of Foreign Wars. His other survivors include his wife of 54 years, Anne Jugum of Seattle; his son, George Jugum of Bothell; and two grandchildren.