---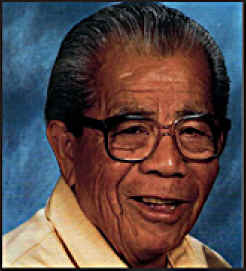 Salvador Gran February 7, 1926 ~ May 18, 2010 Beloved husband, father, papa, lolo, brother, uncle, cousin, friend. Passed away peacefully at home under the loving care of his family and dear hospice nurses. He had complications due to prostate cancer.
Born Sarmingan, Narvacan, Ilocus Sur, Philippines to Pomay-o Gran and Guandan Infiel. He was the third of four children. Immigrated to Hawaii in 1946. Served in the US Army during the Korean War. He is a lifetime member of Veterans of Foreign Wars Post 6599 where he was chaplain from 2000-2003.
Salvador was a longshoreman for the Port of Hawaii (local142) from 1948 until 1965 and moved his family to Seattle in 1965 where he worked as a longshoreman (local19) and was "the best crane operator" for the Port of Seattle until he retired in 1994.
In his retirement, he continued to serve as a devoted parishioner of St. Edward Parish where he was 'master gardener' and caretaker for the church and school for 13 years. He served as head usher for Sunday masses. Salvador lived life to the fullest and enjoyed dancing, singing, traveling the world with Marina.
His favorite adventures included Russia, Europe and the Holy Land. He looked forward to visiting many relatives all over the world also. He relished family celebrations where he was always applauded as 'adobo chef'.
He was a VIP at the Muckleshoot Casino to which he always found a way to get there despite not being able to drive. Salvador loved and adored his family who loved and respected him in return.
Survived by his faithful wife of 55 years, Marina; 6 children: Marilyn (Brian), Myrna (Jerry), Stella (Andrew), Sandy (Julie), Mark (Marcy), Stefan (Corri); 7 grandchildren: Marcus, Marla, Sarah, Peter, Alexa, Malia, Marley; sister Filomena; and many adoring relatives, nieces, nephews and their families and lifelong friends.
We wish to thank all of Dad's excellent Group Health doctors, nurses and medical staff and his very special Hospice team: Margo, Sarah, Michael, Dee.