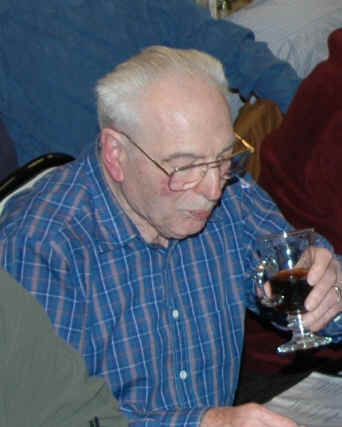 Ricardo Lewis (Rick) Cettolin was born to Fausto and Erma Cettolin February 18, 1923 at the family home in West Seattle . He died at his home in Seattle on August 23, 2010 after a long bout with leukemia.
Ricardo grew up as the eldest of six children in West Seattle . The family spoke Italian at home, so when he started school he was surprised that the other children didn't understand him. He decided right then to speak English as much as possible, and not to speak Italian, something he regretted in later years.
Rick loved music, and played in the Seattle Youth Symphony. He went to West Seattle High School , but quit after Pearl Harbor to join the U.S.Navy. He served in the Navy as a gunner's mate on merchant ships in the Atlantic during WWII.
When the war ended, Ricardo returned to Seattle , became a longshoreman (local 19), and remained one for the rest of his working life. Rick and his good friend, Ennis Stickland, were still picking up occasional work from the C board, when his friend was killed in a car accident.
Ennis' widow, Leona, was living with her four children and soon to have a fifth. Ricardo brought food, gave Leona rides to the doctor, chopped wood, and brought Christmas presents for the children. After helping Leona and her children for a year, Ricardo asked Leona to marry him, and they were married in 1952.
He enjoyed children, and was brave to start off with five of them, and later have a sixth. Ricardo was a hard working man, and a good provider for his family. He loved classical music, and encouraged his children to study music and to continue their education.
He was famous for his Italian spaghetti, and when the children were grown, they would somehow show up at the house when spaghetti was being made. Ricardo retired from longshoring in 1988.
In retirement he enjoyed traveling, gardening, cooking, eating out, and his view of Lake Washington . He loved his grandkids and great grandkids.
Ricardo is predeceased by his parents and by his daughter, Barbara. He is survived by; his sisters, Gloria Pascale, Norma Atwood, Erma Wislocker, and Sister Virginia Cettolin; his brother, Fausto; children, Peggy Kellogg, William Stickland, Don Stickland, Paulette Stickland, and Sheryl Love; grandchildren, Chad and Shawn Kellogg, Ryan and Ian Love, and Shannon Anderson; great-grandchildren, Andrew Bakko, Bianca Anderson, and Corwin Cettolin.