---
An Injury to One is an Injury to ALL
Local 19 of the International Longshore and Warehouse Union Consists of approximately 800 Class "A" registered Local 19 members and 50 Class "B" ILWU International members and hundreds of non-registered men and women who are committed to make Seattle a...
On September 16, 1937, Local 19 received its charter to become part of the International Longshoremen's and Warehousemen's Union also known as the ILWU. It is one of the numerous labor unions located in Washington State Local 19 is part of the Longshore Division of the ILWU.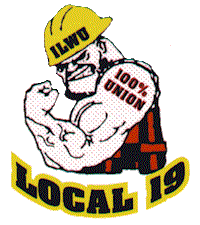 Union Solidarity Night with the Seattle Mariners
Friday, July 26, 2019
Round up your friends and family members for a night out at the ballpark for Union Solidarity Night. Enjoy discounted seating when you purchase through their special offer.
---