ILWU & Labor History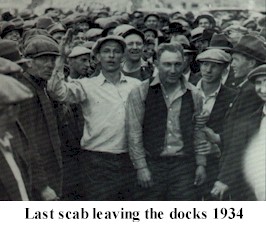 ---
ILWU History
The ILWU Story - Six Decades of Militant Unionism
The San Francisco Waterfront: By Herb Mills, 1976
The Hiring hall: The heart and muscle of the ILWU
The Coast Contract: Strength through solidarity
Function of Nicknames on the Waterfront
Mechanization and Modernization Agreement 10-18-1960
Seattle Waterfront Historical Photo Collection
---
Seattle Longshore past members
Elias 'Dutch' Schultz 1910 - 2006
---
Harry Bridges
Harry Bridges address to the Federated Auxiliaries
Harry Bridges, What was it all about? From the Dispatcher, 1984
Harry Bridges: Worker, Founder, Visionary Part 1
Harry Bridges: Worker, Founder, Visionary Part 2
Harry Bridges: Worker, Founder, Visionary Part 3
That Commie-Rat, Alien Harry Bridges -- Today a S.F. Hero
Alfred Renton Bridges vs. Dave Daniel Beck: The Consequences of their Battles upon the Evolution of Unions
---
History of Longshore on the West Coast of the US and Australia
Longshore strike of: 1884
Longshore strike of: 1916
In the 1930's Seattle scrap steel was a case for trade sanctions
Longshore strike of: 1934
From the San Francisco Daily News, July 3rd, 4th & 6th 1934
George Seldes on San Francisco's Press and the 1934 General Strike
Coroner's Inquest, San Francisco 1934
Letter from Bridges to Seattle Declaring us the ILWU - 1937
Oakland General Strike of 1946
Press Coverage of the 1948 Strike Vote
The sacking of the Australian Wharfies April 8, 1998
Teamsters Organizing Rally May 31, 1998
Neptune Jade Rally - Oakland, Ca July, 1998
APL China hits typhoon en route to Seattle, Nov. 1998
Port Workers Rally April 1, 1999 Seattle, Washington
The WTO rally, Nov. 30 - Dec. 3, 1999
The Charleston 5, January 2000
The FTAA rally, April 21, 2001
The Paul Robeson Memorial Concert - May 18, 2002
ILA, Teamsters, ILWU Solidarity Day - June 27, 2002
The Lockout: September 28 -- October 8, 2002
The Rite Aid rally February 13, 2009
---
Labor History
Reasons for the Development of Unions
Mayday 1886 The Eight Hour Movement
The Effects of Inadequate Wages
The Labor Movement: Violence and Reaction
The Labor Movement: A Violent Period in American History
---
Labor History Websites
Harry Bridges Chair in Labor Studies
San Francisco and the General Strike - from the September 1934 edition of Survey Graphic Magazine.
Pacific Northwest Labour History Association
Seattle General Strike Project A guide to the historical study of the Seattle General Strike of 1919 and related issues. It features research done by undergraduates in Labor Studies.
Strikes! Labor and Labor History in the Puget Sound
Seattle Municipal archives photo collection
Historylink - An evolving encyclopedia of local history of Seattle and King County